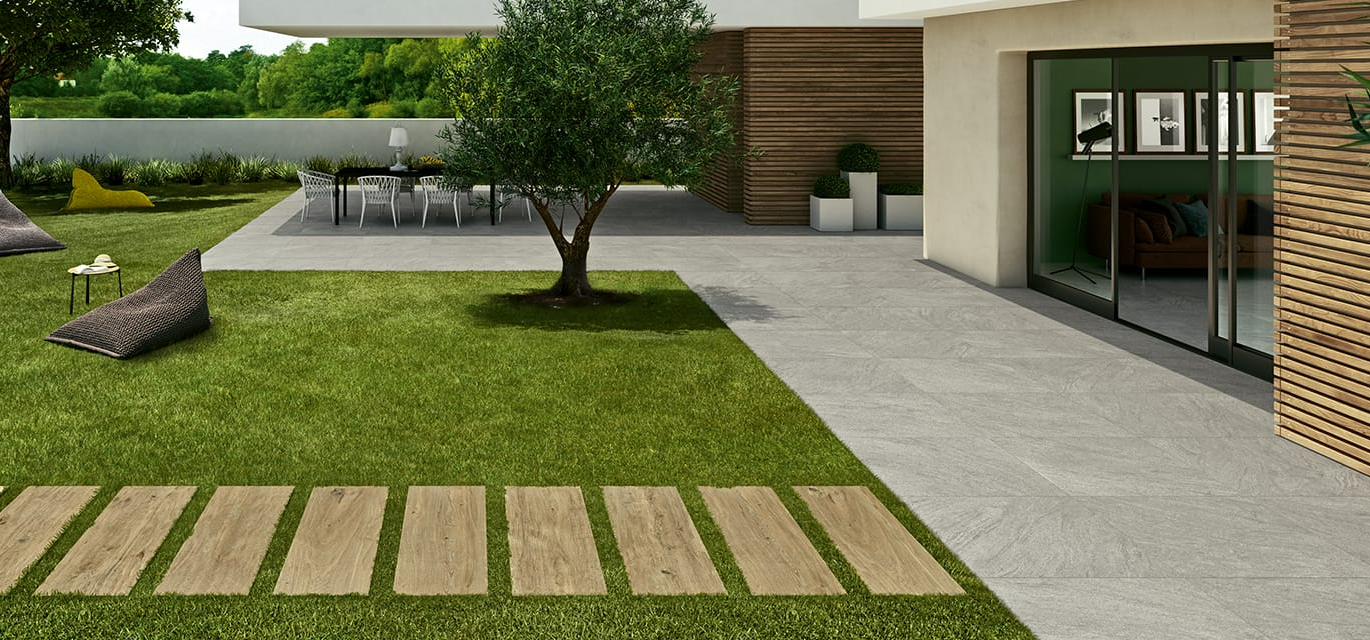 Why You Must Use Porcelain Floor Tiles for Outdoors?
Yes, porcelain floor tiles can unquestionably be used for homes' interior, but what about homes' exterior? Before we bring your attention to why porcelain floor tiles are the correct pick for your next outdoor renovation project, you need to know what porcelain tile is?
Porcelain tile is manufactured using refined clay and other strong natural materials which helps it to become dense and highly durable. Also, it is popular because it can be moulded into various designs options. With their stylish appearance imbibed from natural marbles and stones, they can give a super luxurious feel to your home's interiors and exteriors for years to come.
You might have a question that, why use porcelain tile if there are a lot of traditional paving products for outdoors or walkways? Traditional outdoor floorings will need periodic cleaning, sealing and besides, they look a little old fashioned. In comparison to them, porcelain tiles are long-lasting yet modern and are the perfect alternative to traditional paving products. Therefore, choosing them would be a sensible, attractive and durable investment for your outdoors.
If you are still wondering why porcelain tiles are perfect for an outdoor surface? Here are a few reasons that will help you understand it better:
Porcelain tiles can bring life to your outdoor surfaces
Whether it is the interior of your home or exterior, porcelain tiles look truly impressive at every spot. They can easily convert your space into something that you would have never admired. This means they can create an effect that's both outstanding and delicate.
Outdoor Porcelain tiles are easy to take care
Unlike traditional paving options, porcelain tiles are non-porous with an extra durable coat, which makes them hygienic and easy to clean. They need just little maintenance due to their just because of odour and dirt resistance properties. They can also help you stay away from bacteria and fungus, which can become a real problem, especially on your home's outdoor surfaces.
Porcelain tiles protect your outdoor walls and floors from bad stains, which can be expensive to get rid of. An occasional sweep or a clean with warm soapy water is more than enough to keep them looking as good as new. It also has chemical resistance properties – which means harsh chemical agents will also not be able to do long-term damage to your outdoor porcelain tiles.
Outdoor porcelain tiles are weather-resistant
Porcelain tiles can strongly hold up to any weather conditions just because of their high durability. They can also stand up to the most extreme weather conditions, even below freezing temperatures, due to their moisture resistance. On top of this, they are UV-resistant, so you can be assured they will not fade and lose their colour, even in places that receive direct sunlight.
In terms of durability and long-lasting appearance, it is difficult to beat porcelain tiles. To get more ideas and inspiration on what kind of porcelain tile would look good in your outdoor spaces or your home's façade, get in touch with GGCL today. Our experts will help you find the best collection of porcelain tiles for your home's exterior that will bring a sense of style.
Whether you want a rustic style or a modern vibe for your home's exterior, GGCL has no shortage of decorative options.