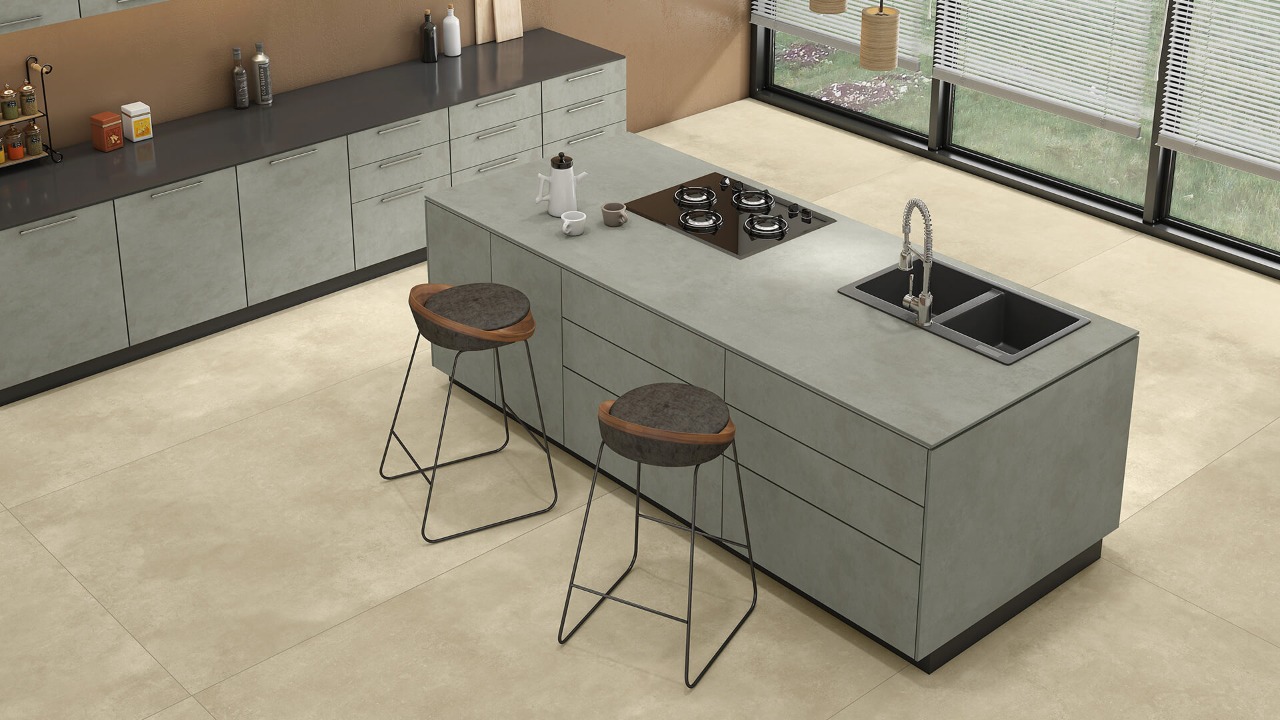 Simenta Series- Grey Is In The Array
Breaking the conventions is what makes GGCL conspicuous amongst the stream of ceramic tiles industry. Simenta is one of the ceramic tile collections from GGCL's iconic Seven Wonder Series Collection.
Simenta series is inspired by cement, having a vivid texture that represents the spectrum of greys, you will just fall and keep on admiring at everytouch and glance. It comprises a varying
spectrum of cement color, with matt and lapato finishing.
Why Is Simenta Popular?
Interior designers and architects are always in full swing to deliver something out of the box for their clients and want to set a new trend that revolutionizes the designing concepts and trends. Earlier, clients, as well as designers, were resistant to use grey color in designing and ceramic marbles or tiles installation. But with the emergence of new technologies, the ceramic industry started introducing conceptual ceramic tiles and marbles slabs that have changed theirperception.
Simenta is such a series that comprises of different color shades such as Beige, Bianco, Grey, and Brown Grey, which makes it suitable for everyone. It is perfect for someone who wants to enjoy thestyle with elegance. It is trendy, classy, contemporary crafted using advanced technology making it enduring and magnificent.
Genres of Simenta Collection
The choice of tile's color, shade, and design vary from person to person, and to provide the best options to the client, GGCL is offering a wide range of ceramic marbles themed upon different patterns and colors.
Predominantly, the Simenta collection is available in two different finishes - Lapato and Matt.Below is the list of colors & designs that falls under these two finishes.
Simenta Classic Grey
Simenta Indus Beige
Simenta Classic Sand
Simenta Concrete Grey
Simenta Elegant Ash
Simenta Elegant Bianco
Simenta Moher Grey
Simenta Mocco
Simenta Metal Light Grey
Simenta Classic Off White
Where Simenta Series Ceramic Marble Is Applicable?
The lavishing aura of grey-colored tile slabs has impressed designers, architects, builders, and customers. The elegance and the intensity it holds can make anyone overwhelmed. A simple slab of Simenta isused as a neutral base for the space accompanied by voguish furniture and elegant lights that can make your interior space glamorous.
To make any space appealing, a high-quality grey ceramic marble is just enough to make it look luxurious and snazzy. With 10 different colors of tiles and 5 different sizes from the Simenta Collectioncan beinstalled to embellish Kitchen, bath space, residential interior, commercial interior, café interior, restaurant interior, malls and supermarkets, industrial setups, religious and public Institutions liketemples, school, hospitals, or any such places.
It is ideal for flooring, countertops, and walls, keeping it open for any kind of usage as per your choice. It gives a vibrant aesthetic touch to the interior space making it expressive, energetic, and
engaging. It could be an excellent choice for you to get style, comfort, endurance, and luxury. it is just limitless.
Explore more –Contact Us