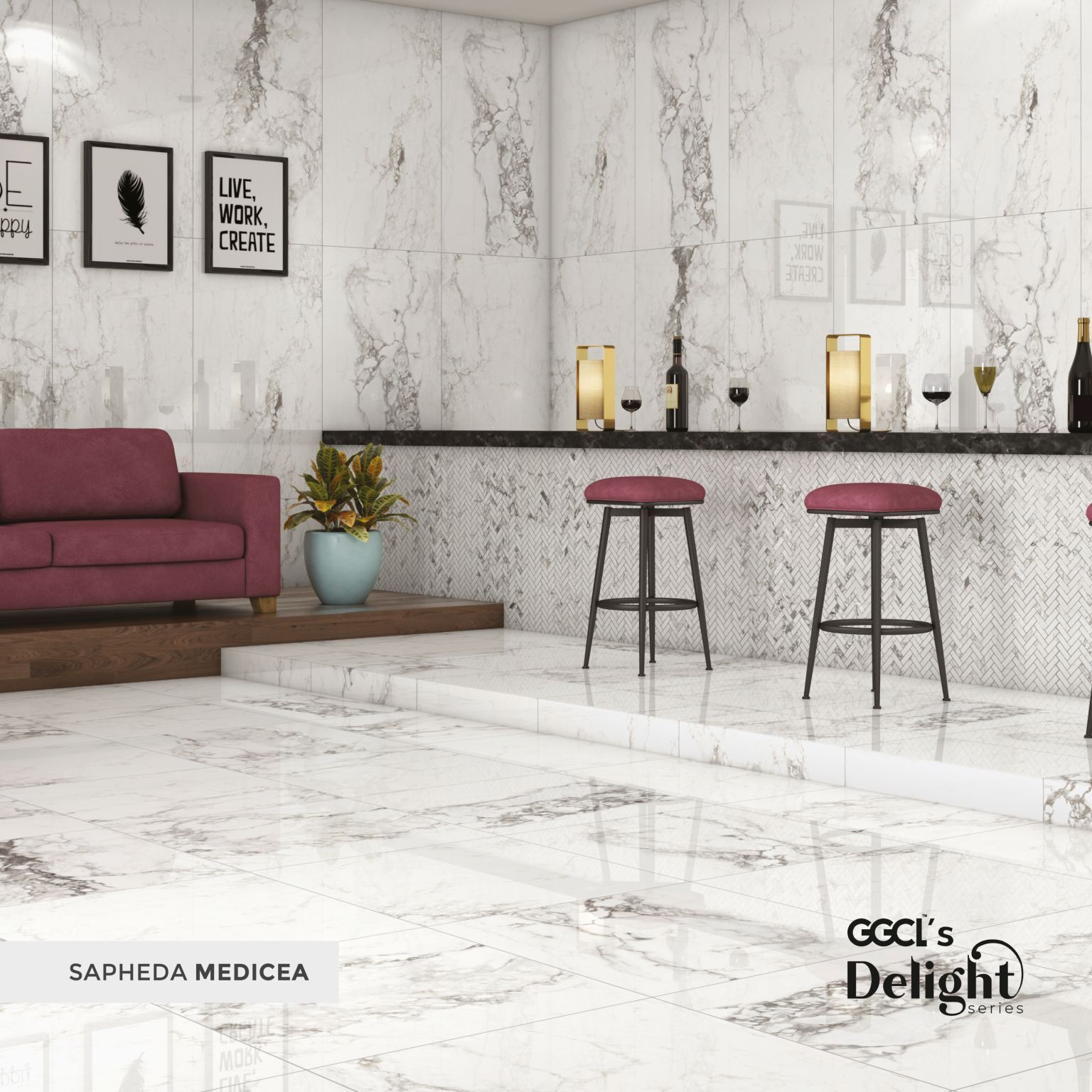 Why spend more on marble tiles when you can plan the foremost sumptuous living space at a more affordable cost with GGCL - Grupo Griffin Ceramica LLP. We are a pioneer in manufacturing and export of porcelain tiles from India in different sizes, designs and colors. You are at the right place if you are looking for a quality product of porcelain tiles from Morbi, India. You can get good porcelain tiles from GGCL with <0.5% Water Absorption. Increase the value of your home and achieve the elegance of marble with our collection. A few counting Statuario, Medicea, and Calacatta.
Porcelain tiles imitates the interesting designs seen in marble, permitting you to accomplish a comparative see on a floor or wall. Envision a room that sparkles the miniature you walk in. It includes a smooth wrap up that produces a basic, however high-end statement piece, clearing out the room with ageless charm.
PORCELAIN FOR WALLS & FLOORS:
There are many benefits when choosing porcelain on your floors or walls. Porcelain is a durable tile that requires little maintenance and is less prone to moisture absorption. Since this is a tile that has a polish surface, the glazed topping acts as an extra layer which strengthens it. Porcelain is also a long-lasting tile. Your bathroom and kitchen are commonly used areas in your home and with people coming in and out of those rooms, you do not need to be concerned about maintaining it.
Marble is a stunning stone but is more difficult to maintain. Acidic cleaning products and tear can wear down the polish, making it appear dull. The product's surface is also susceptible to easily crack and damage. Porcelain makes cleaning quick and easy without needing to constant scrubbing to get back its shine.
There is a multitude of design ideas you can use when installing porcelain on your walls and floors. Whether you want to create a serene master ensuite or a modern dining room, a marble look-a-like tile can transform your home. Instead of splurging on décor, allow your refurbished porcelain slab to emphasize a beautiful natural backdrop.
Are you still not convinced that porcelain can replace marble? Check out our website and scroll through our range.