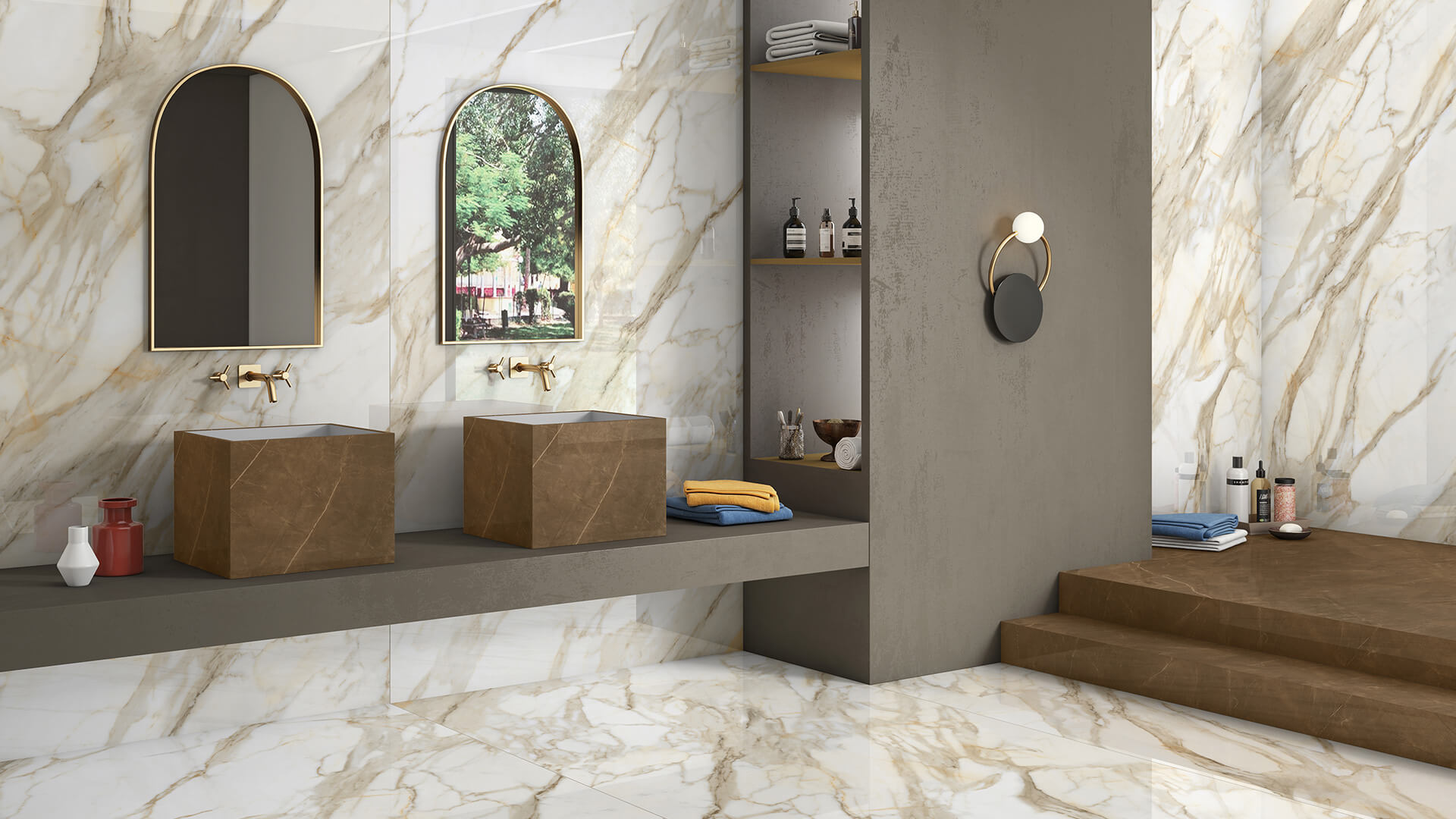 Can we use porcelain tiles for bathroom floors?
Yes, Porcelain tiles are an excellent option for bathroom floors.
Well, there are a variety of options for bathroom flooring available in the market. However, your bathrooms need to have a floor that not only looks elegant but also resists water and humidity. So, you must always go for tiles that are well-known to stand against stain, water and humidity.
Let's take you to Porcelain tiles
Porcelain is a dense, less porous and strong material. It offers an elegant, easy to clean and durable finish to your bathrooms, at the same time it can also resist the growth of bacteria. This means, if you maintain your bathroom flooring, it can look brand new for many years to come.
Most importantly, porcelain tiles are impervious to moisture and significantly less vulnerable to absorption. This makes these tiles an excellent flooring solution for wet rooms and high humidity areas like bathrooms and kitchens.
Practical yet elegant, porcelain tiles are a good choice for bathroom floors as well as walls. Whether you are looking for a modern or timeless bathroom flooring solution, they are a viable choice that brings a touch of class to your space.
Some designs from GGCL's Seven Wonder Series would grab your attention if you are still under a selection procedure.
And if you are still confused about whether you should opt for porcelain bathroom flooring or not? Here are a few reasons that may convince you.
They are non-slippery
In both residential and commercial spaces bathrooms are most vulnerable to high moisture, and at the highest chances of slippery floors. Therefore, you need to choose porcelain tiles as they are the best non-slippery flooring option for wet spaces. Well, many people wonder, "Are porcelain floor tiles slippery?" Fortunately, they aren't! They are slip-resistant tiles that provide resistance in wet or moist areas.
They are more hygienic
Bathrooms are heaven to bacteria; they need to under constant hygiene, and porcelain flooring can certainly offer the same. These tiles don't trap any unwanted allergens or produce odours. They are easy to wipe as they are solid surfaces and non-porous. Also, they don't allow mould or mildew and bacteria to grow.
They are highly multitalented
Porcelain tiles are in trend due to their versatility. Whether you are into a new project or want to renovate an existing one, porcelain flooring tiles are a perfect way to add a stunning finish to any project. They come in a wide range of colours, patterns and textures that give a natural touch to your space. Plus, you can create patterns and prefer a quieter look. Its glossy finish creates a spacious feel and fabulous look.
Hope you are convinced with porcelain tiles and how it will be the perfect option for a bathroom flooring project. Therefore, if you are interested in porcelain floor tile installation in your bathrooms, start the project without wasting time. Choosing porcelain tiles for your bathrooms means conveying your individuality, uniqueness and choosing a good lifestyle.
Visit GGCL for some of the trendiest Porcelain tile designs and sizes.