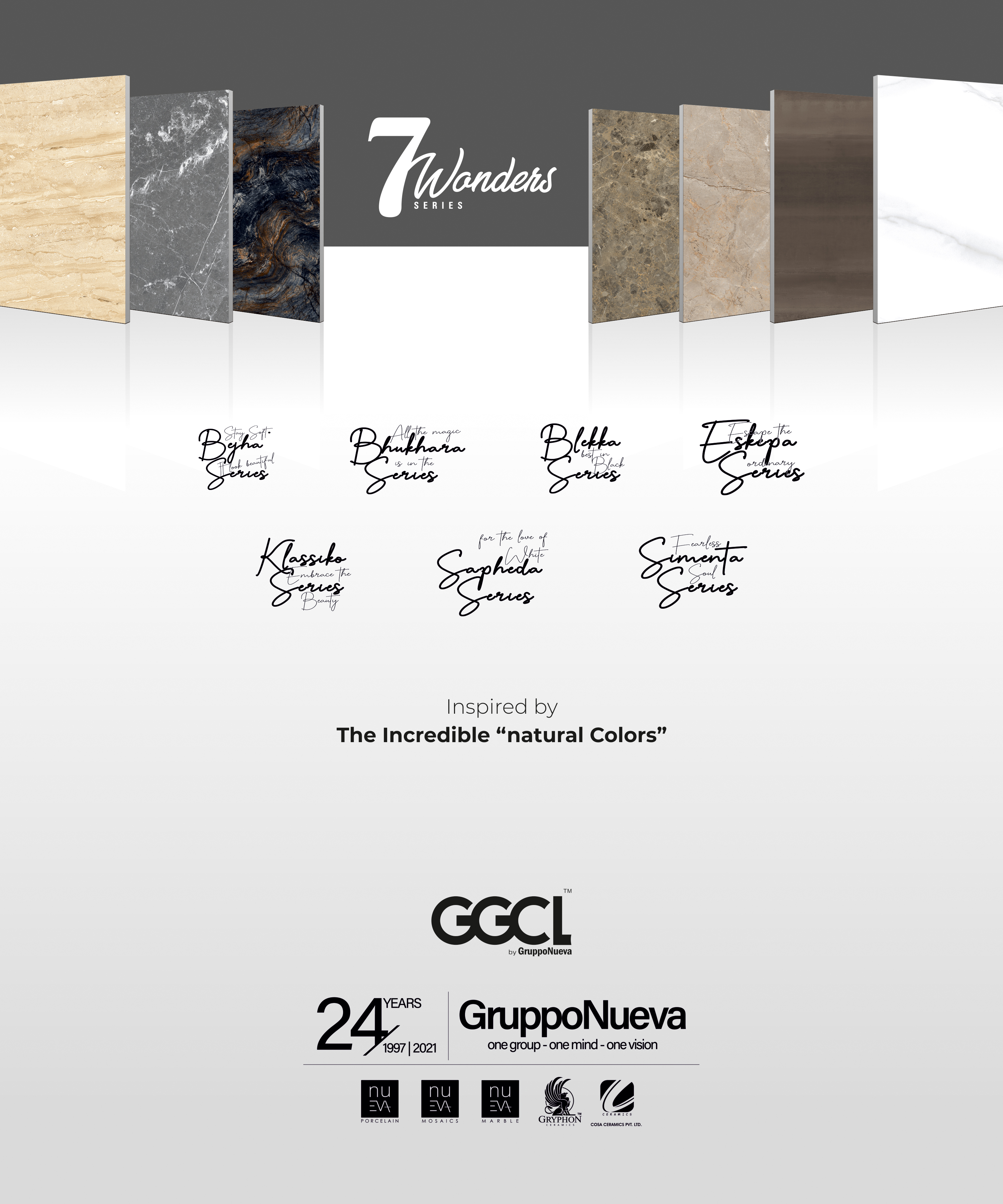 7 Wonder Series Collections By GGCL; Ethos Of Marbles Harmonized With Porcelain Tiles
Whenever we think about ceramic tiles or porcelain, we always conjure gloss, opulence, texture, impressive designs, that make us feel the awe of its design and texture. Though the history of ceramic tiles in building homes and other buildings is stretched back to many centuries.
The ceramic tiles industries have testified to the evolution in terms of design, texture, cut, technology, color, and whatnot. The trends of ceramic tiles markets are transitory, and GGCL has always been ahead trendsetter, not the trend follower.
Having a legacy of more than two decades in the ceramic tiles Industry, GGCL has always tended to deliver products and designs that are ahead of time and contemporary. As a pioneer ceramic tiles producer, providing exquisite quality products and service to our clients and customers is our cardinal responsibility.
Tiles, marbles, and stones have always been associated with luxury, opulence, and art. Getting superior quality ceramic tiles, marbles, or stones installed in a building, can surely add value to it with its texture and unique design. Make the interior space of the building reflect artsy and luxurious attributes, having a splendid tile designed with granular art, gloss, texture, and design can do wonders.
To redefine the majesty of marbles and stones, GGCL has introduced a first-of-its-kind collection of ceramic tiles dedicated to marbles and stone designs. This unique collection of tiles, "Seven Wonder Series Collection" is blended with the essence of marbles and stones. Crafted with minute details, granular artwork, unparalleled smoothness, eye-catchy gloss, conspicuous texture, and robust endurance, the Seven Wonder Series Collection is a state-of-art itself. It is easy to install, inspired by natural colors, light-weighted, and easy to maintain.
The Seven Wonder Series Collection comprises seven different collections of designs and attributes coined with the following titles for each collection,
BEJHA SERIES
BHUKHARA SERIES
BLEKKA SERIES
SAPHEDA SERIES
SIMENTA SERIES
ESKEPA SERIES
KLASSIKO SERIES
The Seven Wonder Series collection is no lesser than a wonder, the plush design and product quality is the epitome of excellence.
With every touch and every glance, one can easily sense the elegance and sheeny surface that illustrates luxury, splendidness, and art.
Give an aesthetic touch to your building using the Seven Wonder Series collection by GGCL. No matter whether it is a commercial or residential building, the Seven Wonder Series are ideal and perfect for every purpose making it magnificent and beautiful.
To make your kitchen look modish and elegant in style, you just need to get your porcelain tiles to get installed by GGCL product. This unique collection is best suitable for floor and wall cladding. It is also ideal for countertops, partitions, yacht coverings, decorating the interior space, customizing tables, ceilings, wings, and back-lighted partitions.
Make your living space or working vibrant and appealing with this state-of-art collection. Don't settle for mediocrity when you can opt for virtuosity!