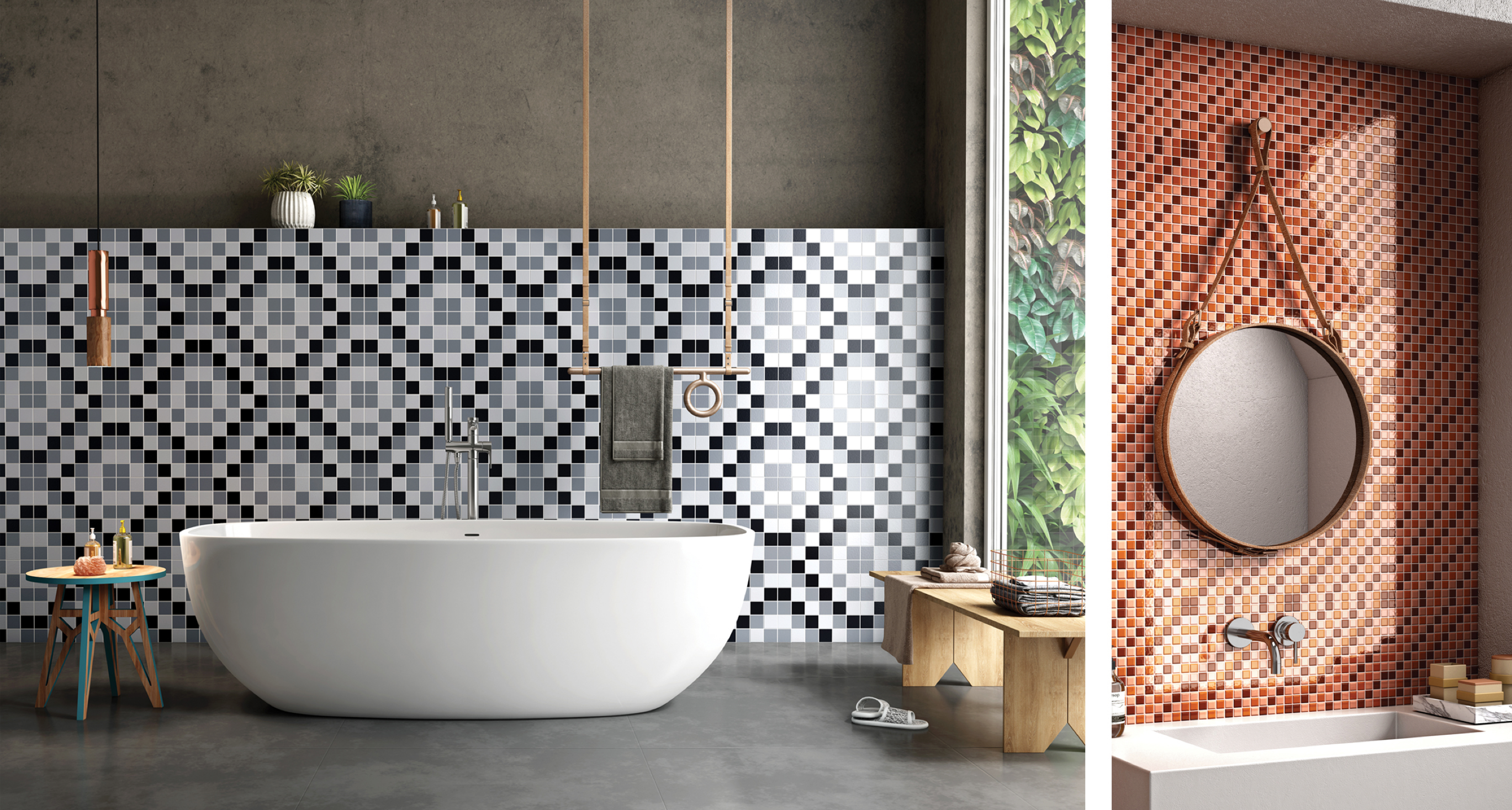 3 Bathroom Tile Trends of 2021
Bathroom tiles are no longer a functional element. No slippery and anti-fungal properties are of tiles are no longer the only requirements. Today, customers are also looking for impressive design and beauty when it comes to picking bathroom floor or wall tiles. And why not? Most brilliant ideas are born out of bathroom space. This much-used room of your house needs calming ambience where you begin your day.
So, let's get updated with the latest bathroom tile trends of 2021.
1. Mosaic Tiles for Bathroom
Mosaic tiles have their own charm when it comes to ambience. They add a rustic vibe and at the same time, can lend a contemporary feel to the entire space. Mosaic bathroom tiles can be used as a simple framework, or they could be installed on the hero wall behind your bathroom mirror. A mosaic bathroom brings a spark which is just the perfect way to kickstart your day. GGCL's collection of mosaic bathroom tiles is desirable and trendy. With a variety of hues and textures, you are sure to fall in love with them all.
Have a look at GGCL's collection
2. Wooden Finished Bathroom Tiles
The super blend of wood-coloured tiles with a high-class basin and trendy bathroom ware can enrich even the smallest of bathrooms. Wood finish bathroom tiles highlight the sense of nature and enable the feel of calm and peace while you enjoy your me-time. Ceramic wood tiles are creating quite a boom in the industry.
For a more convincing feel, you can play around with GGCL's collection of Wooden Finished Bathroom Tiles
3. Marble Flooring
For ages, marble has been the symbol of luxury. Visit any medieval mansion or royal palace, you would be welcomed by a grand marble entrance. Somewhere down the line, the medieval trend took a detour and made may into our living rooms, kitchen, of course, bathroom. Ceramic or porcelain tiles, marble and stone tile bathrooms are in major trend in 2021.
These neutral shades blend well with the natural beauty of marbles to give your bathroom a chic makeover. Marble bathroom floor tiles are sure going to inspire awe from friends and family paying a visit.
GGCL's marble and stone tile collection is premium in class, beautiful in ambience and easy to apply. With cutting edge technology and a fully automated manufacturing unit, GGCL helps you with the perfect flooring for your bathroom.